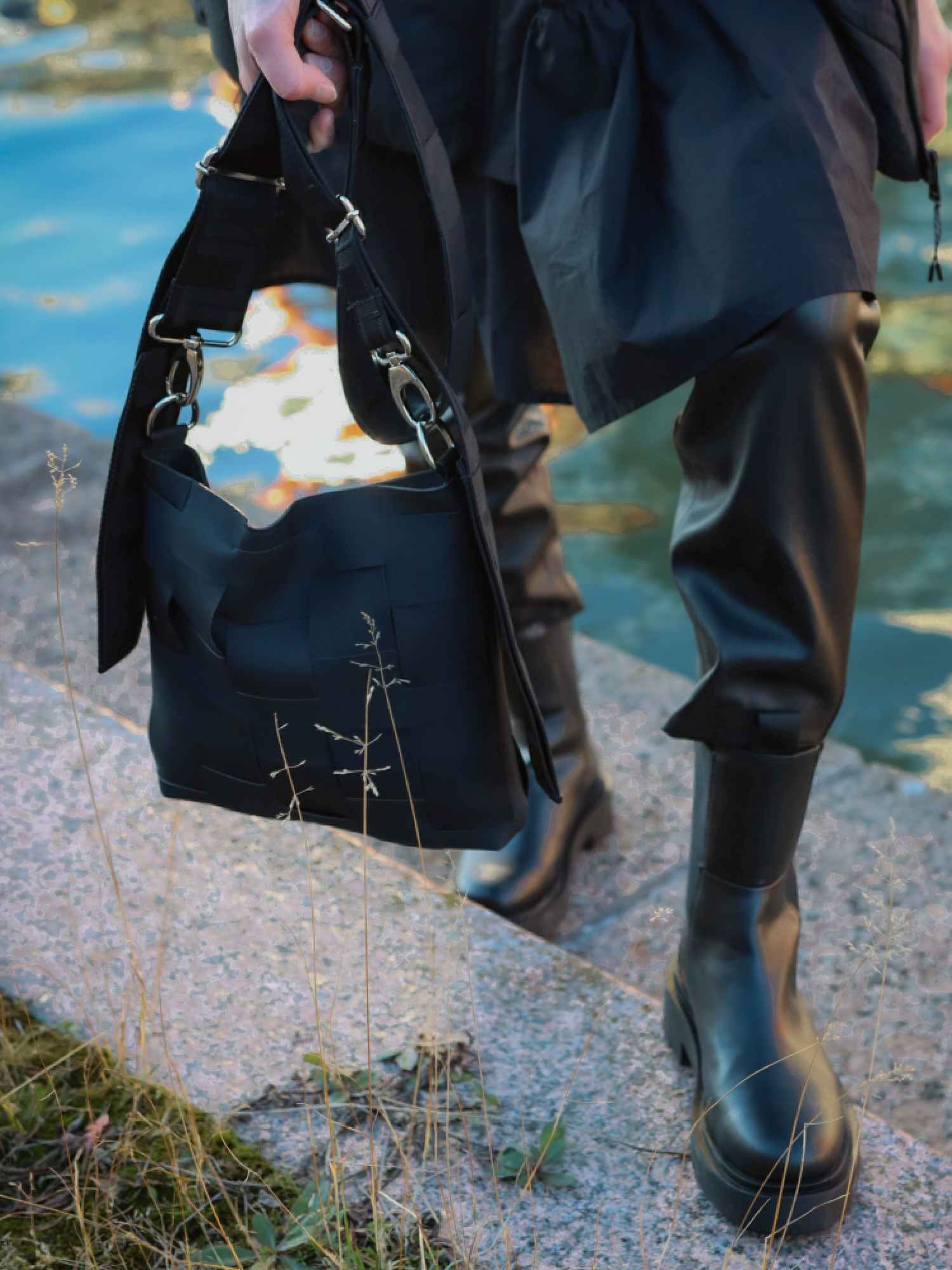 About
Cuitu is a Finnish, gender-fluid accessory brand. It was founded by three young entrepreneurs with a passion for shaping a more sustainable fashion industry and creating meaningful, durable accessories for everyday use. Cuitu accessories are made from leftover materials of selected production companies, such as cutting surplus from the professional diving suit production. As materials, Cuitu also utilizes deadstock or slowstock materials. Cuitu uses only leftover materials that are already existing. All items are locally produced, close to the material sources. This way, unnecessary transport of materials can be avoided and local production can be supported.
Our modern (sustainability)
Cuitu is a modern actor in the global playing field of sustainable fashion. It has a circular business model: upcycling, and it works actively to become fully circular. Sustainability is a norm and baseline for Cuitu, on which it reflects all its decisions. For Cuitu, it is waste-minimizing, transparency, quality and functionality. Therefore, Cuitu is always a promise of responsibly created, meaningful accessories. 
Our modern ways reflect our company culture as well. Our company values curiosity, which is why we collaborate with businesses and individuals across industries. We believe that by collaborating, we can help allocate leftover materials more sustainably, raise awareness about conscious consumerism in fashion, and build attractive circular brands. 
Production
Our goal is to ensure the best quality of our items by working with the most qualified professionals. Cuitu products are locally produced, close to the sources of leftover materials. At present, all production takes place in Turku, Finland. We can thus avoid unnecessary transportation of materials and promote local work. Having a close relationship with the production suppliers in Finland allows us to have a lot of information about production. Using their smartphones, customers can access this information by scanning the NFC tag located under the brand label in each of our products. Furthermore, we want to make sure we only produce by necessity to minimize the burden caused for the environment. Therefore, some of our products are made with Assemble-to-order (ATO) principles in mind. In regards to producing components, like zippers, we visit the factories of potential partners prior to establishing a partnership, to ensure they share our values. We compare their performance to our social and environmental standards alongside their technical capability before taking the decision to proceed.
Sustainability by design
We design based on the pre-production leftover waste materials. These materials may vary and come in different colors, sizes and shapes. By being innovative in terms of design, we are able to, for example, utilize even the smallest fragment of cutting surplus to achieve zero waste. There are more than 20 pieces in some of our products, so they are designed like a puzzle. In addition, we use our own production leftovers to make small components for our own products, such as labels. We strive to create pieces that capture the essence of style without compromising sustainability. The functionality, timelessness and high quality of our items disrupts the seasonal nature of the fashion industry and therefore investing in our accessories is worthwhile.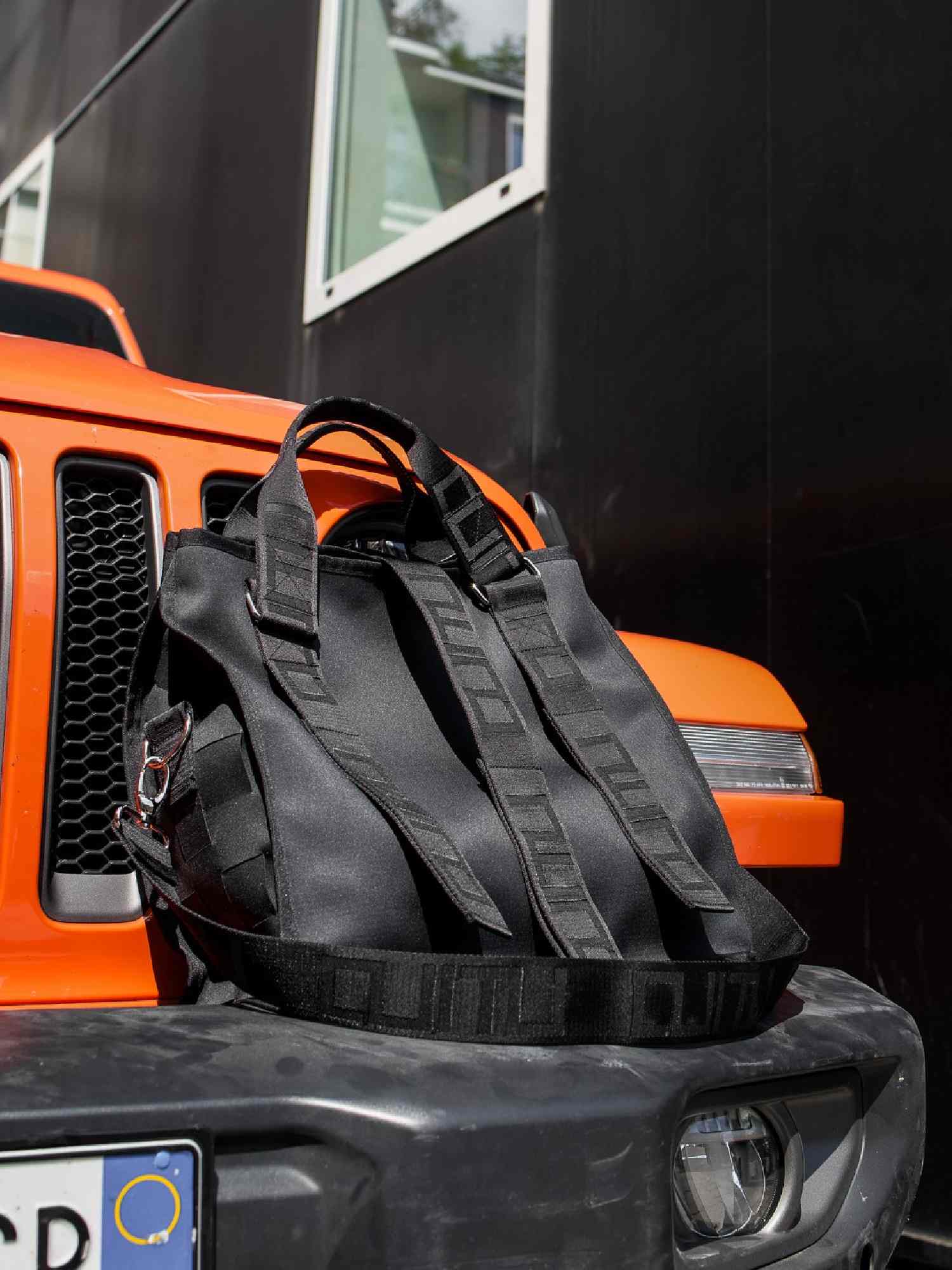 Materials
We want to to create items that last. Creating long-lasting items requires durable materials. This is why we use high-performing materials, for example cutting surplus materials coming from the professional diving suit production where suits are created for extreme conditions. We also use deadstock and slowstock materials, such as fabrics and yarns from various production companies. Furthermore, we have a partnership with local webbing lash production who we help to minimize waste and collect leftovers and use as straps in our accessories.