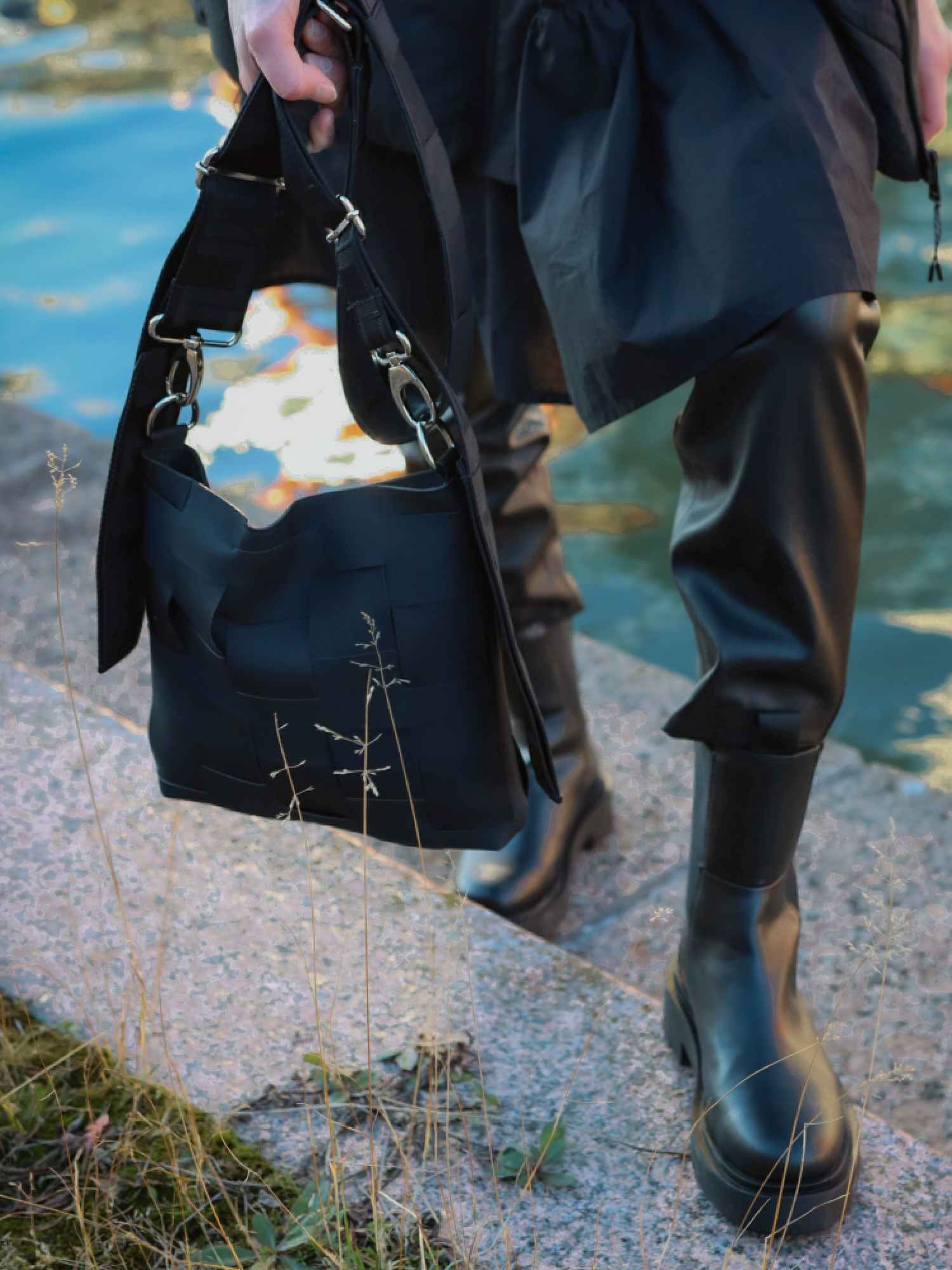 CURIOUS BAG
Here are the care instructions and special information concerning the transparency and sustainability of your Curious bag.
→ DESIGN
The unique plaiting and adjustable strap give the bag an interesting look that catches the eye. The bag is made of cutting surplus from the diving suit production, where durable materials are used to create suits for extreme conditions. So rain will not cause pain to your bag or the important items you have inside it. Team the bag with any outfit and be curious in finding ways to wear it.
→ MATERIALS
All fabrics are upcycled
Shell: 100 % cutting surplus coming from a professional diving suit production (Cordura Nylon 37%, Butyl Rubber 49%, Polyester 14%)
Inner label: 100% cotton
Strap: 100% GRS recycled polyester
Buckles: structural steel, alloy zinc, and iron wire drawn. Contains small amounts of nickel and copper
This bag is manufactured by Fabriikki 8, in Turku, Finland
SUSTAINABILITY
We keep it simple: by purchasing this bag you give a second life to the material otherwise ending up in landfill or burning trash. We have developed the sustainability of the bag starting from the tiniest details to be as sustainable as possible. 100 % of the fabrics (strap, zipper tape, label and material of the bag itself) are sustainable. 
We use quality materials to create A long life cycle for our product. Majority of the components of our bag come either from Finland or other places in Europe. The decision supports our goal to create as little carbon dioxide as possible. 
We use Finnish subcontractors in procurement of the components and in the production to support local and small businesses. Despite using local subcontractors, we have researched where the components originate. To make sure we collaborate with partners who share our values we visit their factories prior to forming a partnership. We compare their performance to our social and environmental standards alongside their technical capability before taking the decision to proceed.
To ease the recycling process the pieces of the product can be separated.
We evaluate our sustainability practices on an on-going basis. All sustainability information is researched and calculated with environmental impacts in mind. In the future we will continue to develop more sustainable business practices.
CARE INSTRUCTIONS
Sponge clean recommended, sensitive handwash with similar colors if needed under 40 C. Color transfer may occur. 
Do not leave in direct sunlight, do not iron, do not bleach, do not soak, do not tumble dry, do not dry clean.
This bag is made to last. If there is an issue with the item or it is no longer in use, and you do not want to recycle or re-sell it yourself, please reach out to us at info@wearecuitu.com and we will take care of everything.